Nebraska Outdoor Calendar

Prairie Chickens: A Lot to Lek! Educator Workshop
March 17 @ 6:30 pm

-

March 18 @ 12:00 pm

$35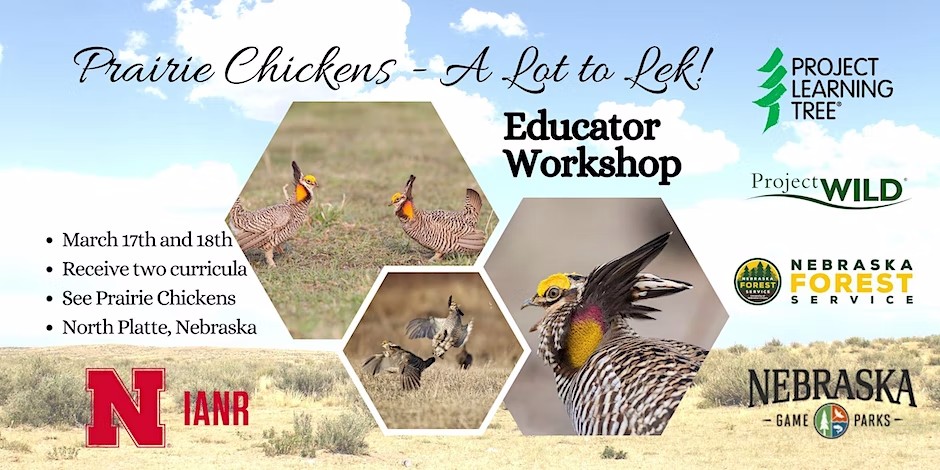 Join Nebraska Forest Service and Nebraska Game & Parks for a combined Project Learning Tree and Project WILD workshop focused on the unique biology and behaviors of Prairie Chickens. This workshop will equip educators with PLT/WILD curriculum as well as the experience of seeing Prairie Chickens in-person before teaching about them in their classrooms. Spend a bit of your spring break at a once-in-a-lifetime professional learning event!
Nebraska is home to one of the largest remaining populations of Greater Prairie Chickens. Their mating rituals and booming calls enchant hunters, landowners, and naturalists. Never heard of or seen a Prairie Chicken? Attend this training! During this workshop, participants will have the opportunity to view a "lek" or breeding group from a viewing blind to watch their unique behaviors.
Educators will receive two curricula from Project Learning Tree and Project WILD as well as the training to integrate the quality, non-biased environmental education lessons into their work with youth.
Training Details:
March 17th and 18th at West Central Research and Extension Center in North Platte Nebraska.
Provided Curriculum includes: PLT's Explore Your Environment and Project WILD's Flying WILD.
Cost is $35 to cover the cost of books and minor supplies.
Full scholarships available to cover the cost of registration thanks to Nebraska Environmental Trust! Contact Jack Hilgert (jack.hilgert@unl.edu)
Who is Eligible?
Anyone who is passionate about quality environmental education and teaches youth about the environment. Lessons covered during this workshop will best suite educators of youth in K-8 settings, but all are welcome to attend.
Lodging will be the responsibility of the participants. North Platte has numerous lodging and camping accommodations to fit any budget: https://www.visitnorthplatte.com/places-to-stay/
Important Information:
Restrooms will not be available while visiting the viewing blind so as not to disturb prairie chickens. Visiting the blind may last two to four hours depending on prairie chicken activity. Restrooms will be available at the NGPC Southwest District Office immediately before driving to the blind location, or immediately after leaving the blind.
Vehicles will be parked a distance from the viewing blind so as not to disturb prairie chickens. Please prepare for a short hike with hilly terrain going to and from the viewing blind.
Things to consider bringing: binoculars, spotting scope, camera, camera batteries, layered clothing, gloves, warm coat, warm hat, warm socks, hiking boots/close-toed shoes, snacks, water bottle, bird ID guide. *there is no electricity in the viewing blind*
Questions? Contact us!
Jack Hilgert, Conservation Education Coordinator, Nebraska Forest Service, jack.hilgert@unl.edu, 402-472-9727
Meghan Manary, Southwest Regional Naturalist and Outdoor Educator, Nebraska Game and Parks Commission, meghan.manary@nebraska.gov
Monica Macoubrie, Wildlife Education Specialist, Nebraska Game and Parks Commission, Monica.macoubrie@nebraska.gov, 402-471-5363
ABOUT THE CURRICULUM:
Project Learning Tree® (PLT) provides educators with high-quality professional development, hands-on activities, and multi-disciplinary supplemental curriculum that can be easily integrated into lesson plans for all grades and subject areas to help teach youth about trees, forests, and the environment.
Project WILD's mission is to provide wildlife-based conservation and environmental education that fosters responsible actions toward wildlife and related natural resources. All curriculum materials are backed by sound educational practices and theory, and represent the work of many professionals within the fields of education and natural resource management from across the country.
Related Events